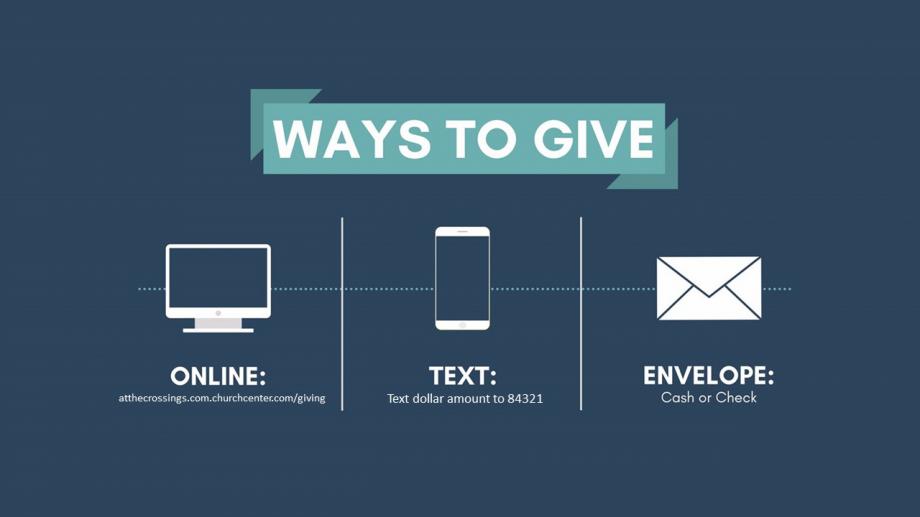 There are three ways give at The Crossings:
Online - click

here

Text - Text the dollar amount to 84321

Envelope - In person Sundays morning or mail to The Crossings at 7056 Archibald, #102-305, Eastvale, CA 92880
"But just as you excel in everything–in faith, in speech, in knowledge, in complete earnestness and in your love for us–see that you also excel in this grace of giving." 2 Corinthians 8:7 (NIV)
Frequenly Asked Questions:

I don't want to set up another account. Can I make a quick, one-time donation?
Sure can! Just click on this link to give through Stripe using your debit or credit card. It's safe, fast and easy.

Can I set up recurring giving automatically?
Sure can! Stripe offers the option of setting up recurring contributions. With automated contributions, you can also eliminate the hassle of postage stamps, check writing and you'll receive timely receipt of your contribution.

Can I use Text-to-Give?
Sure can! Text your dollar amount to 84321 and you will be prompted to set up your account. From there on out, just text your dollar amount and you are good to go.

Is this safe?
Definitely. Your information is held securely by Stripe. Your information will remain private and will never be given away to any third parties.

Once I set up a Recurring Donation, can I change it or delete it?
Sure can! You can delete it, change the timing or put on hold. Here are the steps to do this.
Go to the Online giving web page, https://atthecrossings.churchcenteronline.com/giving

At the very top, click on "Login"

Enter your email address and click "Send me a login link"

Go to your email Inbox and click on the link that says "Log in Now"

This will open your internet browser, scroll down to Recurring Donations section and click on the "Manage" button above the recurring donation

This will open another window, on this window you can change the scheduled timing, change the status and put on hold or delete the recurrence.

It's that easy, you're all done!
I still have questions, who can I contact?
If you have questions related to giving, please contact our Finance team by emailing at info@atthecrossings.com.
WE ARE NEVER MORE LIKE GOD THAN WHEN WE GIVE. AND EVERY TIME WE MAKE A DECISION TO BE GENEROUS, WE DISCOVER THAT OUR GOD REFUSES TO BE OUT-GIVEN.